TC Helicon has announced the release of Critical Mass, a new Choir and Gang Vocals stomp box that promises to inject atmosphere into your live vocal performance.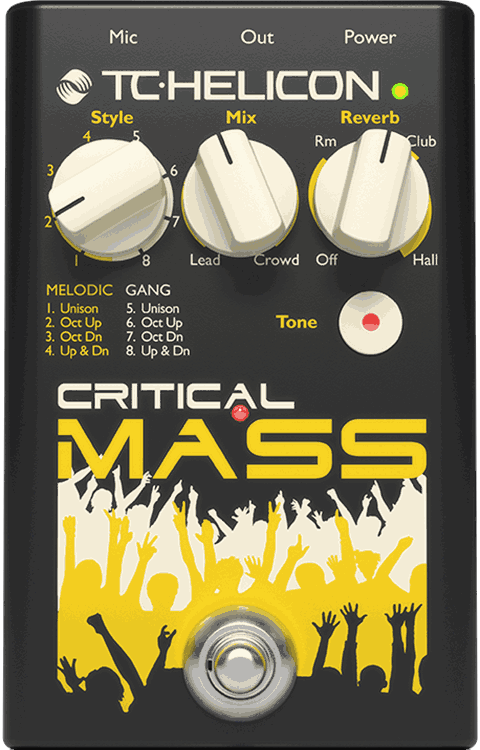 The pedal features a metal chassis ready for the tough life on the road, with 3 styles of Reverb, and Adaptive Tone to automatically clean up your microphone.

This stomp box features 4 Gang and 4 Melodic Choir styles, including Unison, Octave Up, Octave Down, and Up and Down, do you can leave the backing tracks at home.

Critical mass can be powered by AA batteries or a 9V power supply, so you can make music whenever, wherever.
Critical Mass features
4 Melodic Choir Styles.
4 Gang Vocal Styles.
3 Reverb Styles.
Adaptive Tone.
Optional AA battery power.
Easy connection between standard mic and mixer.
Phantom power always available.
Low noise microphone pre-amp.
Automatic input gain – no more setting and adjusting input gain.
Rugged all-metal construction.
Mic Control for remote on/off switching with optional TC-Helicon MP-75, MP-76 (main button only) and Sennheiser e835 FX mics.
Individual style select and mix controls for gang vocals.
USB connection to VoiceSupport application offering updates, product-specific news and more.
9V operation (vs 12V) to accommodate common pedalboard power supplies.
Critical Mass is now available for purchase for $149.99 USD.
More information: TC Helicon / Critical Mass