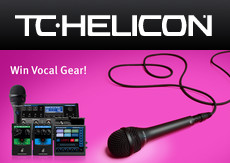 TC-Helicon has launched the Love Songs Competition, a chance to win prize packages for recording love songs.
On Valentine's Day, TC-Helicon launched a competition for singers using TC-Helicon products.

The TC-Helicon Love Song Competition gives vocalists a chance to win TC-Helicon prize packages for recording love songs that feature any TC-Helicon product from VoiceLive 2 to the new VoiceTone Singles range.

Winners of the competition can win a Grand Prize of either a VoiceLive Touch or VoiceLive 2 and a MP-75 Modern Performance Vocal Microphone with Mic Control. Four runners-up will have their choice of any VoiceTone Singles stompbox for singers.
The competition runs from February 14 to March 31, 2011. Winners will be voted on by TC-Helicon staff based on quality, creativity, arrangement, talent and use of their TC-Helicon product.
All a musician has to do is record a video of a love song using a TC-Helicon product, post the video on YouTube and submit their entry at tc-helicon.com/love-songs
More information: TC-Helicon