TC-Helicon has announced the release of Voice Rack: FX, a real-time vocal effects processor that can be used live or connected to other music apps like GarageBand.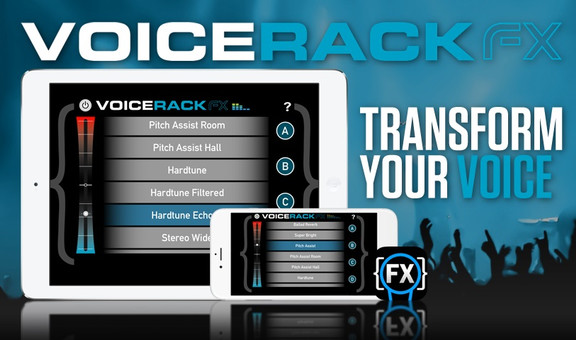 Transform your voice with 50 vocal presets from TC-Helicon, the industry leader in vocal processing. The vocal presets have been expertly authored allowing you to use your voice to create musical sounds including bass lines, drum sounds, or spice up your vocals with professional effects like reverb, echo, delay, distortion, pitch shifting or HardTune autotuning. These very same effects are used by some of your favorite musicians.
Voice Rack: FX features
50 Vocal presets built using TC-Helicon voice processing algorithms including: HardTune for live, auto-tuned vocal effects, Reverb, Delay, Doubling, Echo, Micromod, Chorus, Flanges, Distortion, Gender bending, Transducer, Pitch correction.
4 radio buttons to store and instantly recall your favourite presets.
Audiobus connectivity.
Inter-App Audio connectivity.
The app is available for purchase for $4.99 USD.
More information: TC-Helicon