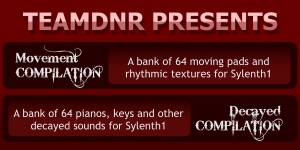 TeamDNR Collaborative Designs has announced the release Decay and Movement, two soundsets featuring 64 sounds for the Sylenth1 synthesizer by LennarDigital.
The Movement Compilation focuses on (obviously) moving pads and rhythmic textures, while the Decay Compilation features a range of organic blends and digital strikes, plucks and taps.

These packages of sounds are select, more refined versions of our original Sylenth1 soundsets. Customers of the originals may still want to download and use these versions, as some performance programming was added, along with some minor gain adjustments and general fine-tuning.
Decay and Movement are available to download at no cost.