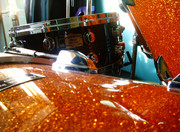 TeamDNR Collaborative Designs has announced the release of The Control Centre XL Drumpacks, a library of 600+ live drum loops recorded between 3 different acoustic drum kits.
The kits were recorded on a Tascam US-122 audio interface through the same 2 microphones throughout all the recordings. A Shure SM58 microphone was placed about 1 metre above the centre of the snare drum as an overhead mic, and an Audio Technica Pro4H in front of the kit, placed about 6-12″ from the head of the kick drum.

The Yamaha loops are completely unprocessed, while the Richmo loops (orange and blue) were processed sparingly with the Kjaerhaus Audio Classic EQ and Compressor plug-ins.
The Control Centre XL Drumpacks is available to purchase as a download for $15 USD.