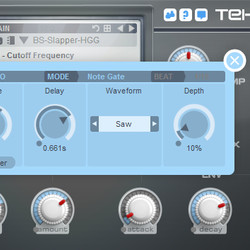 Tek'it Audio has released version 1.2 of Genobazz Pro, a monophonic synthesizer instrument for Windows.
Genobazz Pro 1.2 comes with an improved user interface, a new bandpass filter, 155 new presets made by AbstractCats and Hypnagogia, an improved default preset bank and two new features on the LFO, a delay and a phase trigger to restart the phase on a new note when you use the LFO in tempo sync.
Changes in Genobazz Pro v1.2
Bug fixed: saturated filter now sound exactly like on Genobazz 2.
SSE2 instruction sets requirement.
Performance options are now saved with the preset.
Added 12dB BP State Variable filter.
Added LFO delay.
Added LFO phase trigger.
Added AbstractCats bank of 128 new presets.
Added Hypnagogia Expansion preset bank.
Improved Default presets bank.
GUI: Modified screen color to gray.
GUI: Improved random and Undo icons.
GUI: Improved performance options (Bend range, Env re-trigger, Note priority) selector.
GUI: Improved LFO section.
GUI: Other small improvements.
DEMO: the plug-in now work without limitations for 10 minutes.
SETUP: Improved Installer and Demo uninstaller.
User Manual updated.
Genobazz Pro for Windows (VST) is available to purchase for 39 EUR / $49 USD.
More information: Tek'it Audio / Genobazz Pro