Tek'it Audio has announced the release of EQF8 and EQP8, two parametric equalizer plugins for Windows and Mac.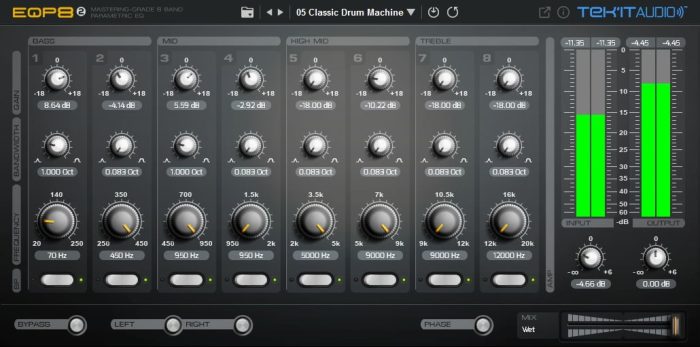 These EQ's offer 8 band for mixing, mastering and sound design. They have been designed to keeps the character and nature of your sound that makes them ideal for a wide range of applications.

EQF8 and EQP8 offers center frequency, bandwidth, gain and bypass on each bands. Packed with a number of features, including digital peak meters, a mix fader for parallel equalization, separate left and right channels bypass and a very usable interface.
EQF8/EQP8 features
Equalize on 8 band from bass to treble (EQF8) / 20Hz to 20KHz (EQP8).
Control the gain, center frequency, bandwidth and bypass on each band.
Bandwidth from one semi-tone to four octaves (EQF8).
Input and output gain control from -∞ to +6dB.
Dry/Wet Mix and phase inverter for parallel equalization.
Separate left and right channels bypass.
Carefully calibrated Digital Peak Meters.
Max peak values display.
Oversampling for clearer sound.
Works in mono or stereo.
Support any sample rate.
64-bit internal processing.
Full MIDI automation support.
Undo your changes to initial preset value.
Integrated preset manager, rename, copy, save, load…
Up to 32 user presets per bank.
Comes with user manual.
Easy installer.
EQF8 and EQP8 for Windows and Mac (VST/AU) are available for purchase for 49 EUR/$59 USD each. Trial versions are available to download.
Customers of the now discontinued 8eqf and 8eqp plugins are eligible for a free upgrade toward these new equalizers.
More information: Tek'it Audio