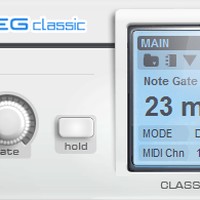 Tek'it Audio has updated its Arp-EG classic MIDI arpeggiator plug-in to version 1.1.
Arp-EG classic is a MIDI arpeggiator, play arpeggios on all your instruments. All the VST instrument you like and even your hardware synth (using your DAW MIDI out) can now play arp sequence with Arp-EG.
Changes in Arp-EG Classic v1.1
BUG user manual link on Help screen don't work, resolved.
BUG in some cases the shuffle generate a beat drop, resolved.
Faster Undo initialization.
SSE2 instruction sets requirement.
Reduced plug-in load time.
Added Right click octave selector pop-up menu to Transpose knob.
Added 4 new presets.
GUI improved Transpose knob graduation.
GUI improved Main screen display.
GUI moved social, help and info buttons to the top.
SETUP some improvements.
User Manual updated and improved.
The plug-in is available to purchase for 16 EUR / $20 USD (Windows VST).
More information: Tek'It Audio / Arp-EG