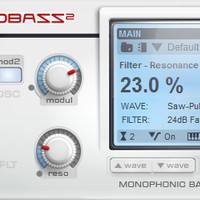 Tek'it Audio has announced version 2.2 of its Genobazz free bass synthesizer plug-in and the releases of a free expansion.
This new update of Genobazz has some bugs fixed, a new band pass filter, some minor improvements on the GUI and each envelopes (MSEG) can now have negative values to create even more complex modulations. This update come with 2 new presets demonstrating the improved MSEG.

And to further enhance your Genobazz 2 experience Hypnagogia Expansion is available as a free download. Hypnagogia Expansion is a bank of presets crafted by Goran Mrganic a producer from Serbia know as Hypnagogia, who's been mainly involved in the Goa and Psychedelic Trance scene.
Changes in Genobazz v2.2
Bug Pan MSEG can now use is full range.
All MSEG can now be negative to create inverted envelopes.
Pitch MSEG range is now -4/+4 octaves.
Added a state variable Band Pass filter.
Added 2 new presets demoing the negative MSEG.
GUI Renamed Sync to Host Sync and Free run to Note Gate to avoid confusion.
GUI Renamed Divide to Beat.
GUI some cosmetic improvements on the MSEG bottom menu.
GUI Added close button on the support screen.
GUI social screen updated.
Genobazz 2 is available to download as a freeware VST plug-in for Windows. The "Hypnagogia Expansion" is available to download at no cost for Facebook fans of Tek'it Audio.
More information: Tek'it Audio / Genobazz