Tek'it Audio has announced an update to the Syntik-DR drum synthesizer instrument.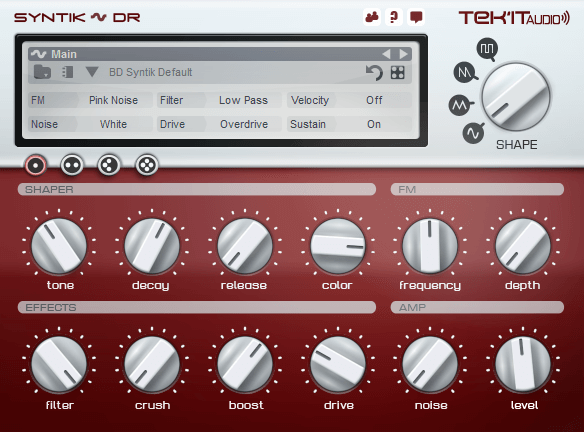 Previously available for Windows only, version 1.5 brings the plugin to Mac OS. The update also includes 64-bit support for the Windows version with VST2/VST3 plugin formats.
Syntik-DR drum synthesizer use a work­flow based on layering to produce typical drum sounds often heard in analogue synthesizer and drum-box. But also a wide spectrum of sounds used in modern productions like deep layered kicks, lo-fi percussion's, out of this world fx and distorted rave kicks.
Changes in Syntik-DR v1.5
Add 64-bit VST2 support for Windows.
Add 64-bit VST3 support for Windows.
Add 64-bit Audio Unit support for macOS.
Add .vstpreset and aupreset format support.
Add .xmlpreset and .xmlbank to exchange preset between formats.
New Windows installer program to support the new plug-in formats.
Add package installer for macOS.
Drop support for Windows XP, Vista and 7.
Revised "End User License Agreement".
UI Plug-in information screen updated.
User manual revision 1.
Syntik-DR is available for 15 EUR / $20 USD for a limited time (regular 39 EUR / $49 USD).
More information: Tek'it Audio