TekkZoo Instruments has announced that its previously announced BunnyKicker kick drum instrument is now available.
BunnyKicker is a kick creation tool with character, consisting of three layers and an effects section.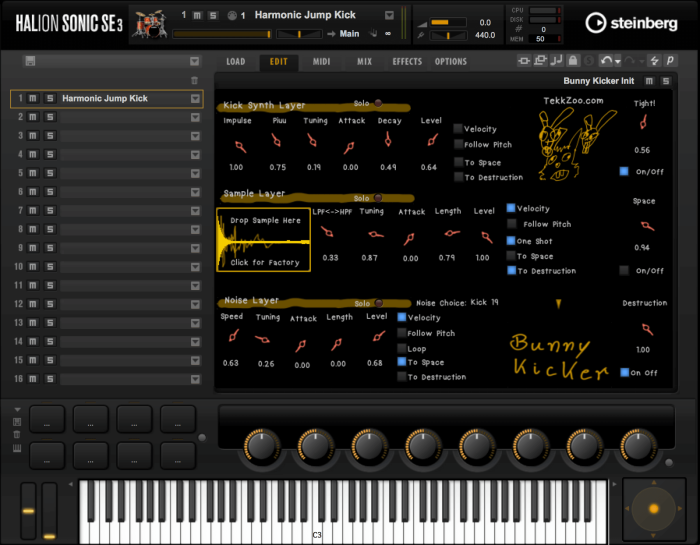 The first Layer is a classical drum synth inspired by analogue classics such as the 808, including instabilities and dirt. The twist is that the sound can be way more aggressive in higher frequencies. This gives the synth its very own distinct style with crisp transients.
The second layer allows for loading of your own samples via drag and drop from the file explorer or from the included field recording samples. The sample layer features a tilt filter allowing you to keep either only the high or low frequencies in combination with the other layers.
Finally this is topped off by a noise layer based on the inharmonic noise source from the advanced HALion 6 Wavetable oscillator. It comes with a perfect collection of noises and inharmonic transients to add that extra impact in your transient design.
"A lot of sweat, love and work has gone into this project. It first started out as a solution for my own projects, but feedback from friends and other professionals alike showed me that this is a good solution for everybody who wants quick and inspiring kicks with impact and character. This motivated me to open a shop and share this with you. The next animal is already in the pipeline, so keep your eyes open for TekkZoo Instruments."
BunnyKicker features
One page access to all parameters.
From producers for producers.
Kick synth inspired by the legendary 808 design.
Sample player for easy import and manipulation of your own or stock sounds.
Noise synth based on the mighty noise section of HALion 6.
Magic effects section providing result oriented one knob effects for tightness, space and distortion.
Small but creative sound collection to get you started.
BunnyKicker for HALion SE and HALion is available for purchase for 29.99 EUR. For a limited time only, the instrument is 50% off.
More information: TekkZoo Instruments