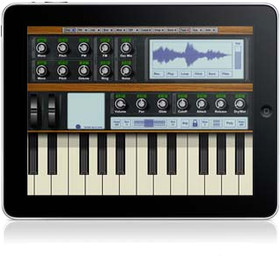 TempoRubato has announced version 5.0 of NLogSynth PRO for iPad and NLog MIDI Synth for iPhone/iPod.
While working hard at the new NWave app in collaboration with Waldorf, we took some time to update the classic virtual analogue synth apps of TempoRubato. In the last couple of months the codebase was renewed to add flexibility for projects like the NWave app and more to follow. The NLogSynth update adds most wanted user requests and further complements the app with outstanding features.

Our feature lists are fully packed with further ideas, user requests and more for upcoming updates. TempoRubato will continue to further develop NLogSynth apps apart from releasing new apps.
Changes in version 5.0
MIDI Learn.
Overdub Recording & Looping.
Sound Bank Import & Export.
True Mono/Legato Mode.
Export Media Files in another App.
Core MIDI Network Support.
Reset Parameter to Default Value.
Full MIDI CC Range 0-127 for external control.
New Default Sound.
Running Phase parameter improved & fixed.
Update to new SDK for Akai SynthStation 25.
Modulation of the keytrack source has been increased within modulation matrix (iPad only).
The "flat" setting for envelope slopes fixed (iPad only).
Optimization for devices with arm7 based CPUs.
… and many other fixes and improvements.
The updated NLogSynth PRO and NLog MIDI Synth are now available from the iTunes App Store, priced $15.99 USD and $4.99 USD repsectively. The Mac standalone app and AudioUnit version of NLogSynth will follow with a corresponding update in the following weeks.
More information: TempoRubato