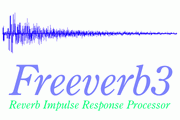 Teru Kamogashira has released version 2.5.15 of Freeverb3, a free sound processing library.
Freeverb3 library includes high quality freeverb, nreverb, impulse response reverb, FIR filter constructor, band splitter, hardknee/softknee compressor, stereo enhancer and lookahead soft limiter. Oversampling feature provides high quality of audio processing. The compressor provides mastering quality audio processing. This library includes XMMS plugins, audacious plugins, BMP beep media player plugins and sample programs, which enable you to test the audio effects easily.
Changes in Freeverb3 v2.5.15
The new reverb algorithms were added.
The new xmms/bmp/audacious plugins were added.
The reverb class structures were changed to catch errors.
The sweep generator and a sample code were added.
Some minor bugs were fixed.
The Freeverb3 library (including VST plugin) is available as a free download.
More information: Freeverb3