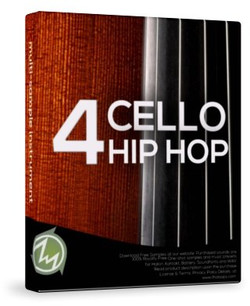 ThaLoops has announced the release of Cello 4 Hip Hop, a 1.4 GB virtual instrument for Kontakt and SoundFont, developed for urban music producers.
The cello worth 6k$ was sampled in a top studio using premium mics (A pair of Neumann U-87, Schoeps CMC641 and Blue Custom Microphone), run through a-class preamps.

The instrument includes 861 wav samples of various cello articulations covering 5 velocity layers per note and real trigger release sounds:

Detache ( 5 velocity layers per note, polyphonic, vibrato with mod. wheel.)
Legato (5 velocity layers per note, vibrato with mod. wheel.)
Staccato (5 velocity layers per note.)
Pizzicato (5 velocity layers per note.)
Authentic Glissandos (octaves on every string C,G,D,A, solo and fifths.)
Authentic Trills.

Unlike other virtual cello instruments, Cello 4 Hip Hop is an affordable professional library developed not just for movie scoring producers, but also for musicians who produce in genres such as urban hip hop and pop; strong, suede low end cello sound do not interfere with the powerful 808 layered hip hop kicks.

Compose catchy lead melodies and harmonies and layer modern synthesizers with the natural, edgy cello sound to add richness to your beats.
The Cello 4 Hip Hop library is available in Kontakt and SoundFont formats, priced at $34.95 USD.
More information: ThaLoops