The Cargo Cult has announced the release of Envy, an audio effect plugin that offers envelope substitution, manipulation and mutilation.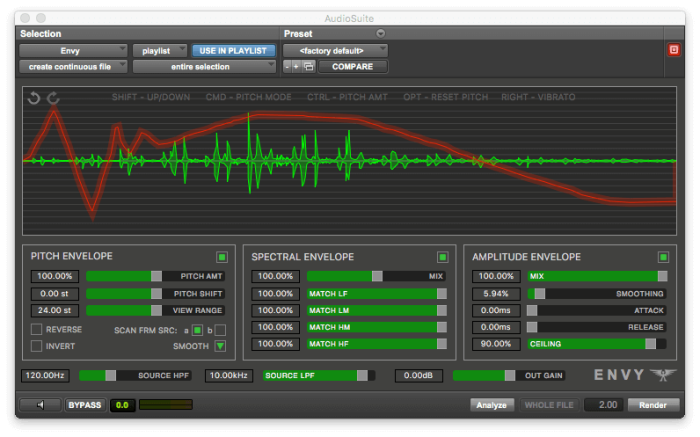 Envy is all about envelopes, stealing characteristics of one sound and applying them to another.

It's kinda like a morph, but it's really not that. It's part dynamics tool and part vocoder, but you won't use it for either of those things. It's officially a modulation plugin, but that doesn't even begin to explain what it actually does.

Envy is really a toolkit for generating unique new material, adding textures to real world recordings or mutilating sounds to create crazy sci-fi elements. It can fit a wind recording into a machine gun, add wood to foley feet, it can superimpose a drum pattern on a vacuum cleaner, or pitch dive a vocal 6 octaves just for kicks.
Envy features
Super tight dynamic envelope substitution.
4-band Spectral Envelopes.
Continuously variable pitch envelopes.
Harvest pitch envelopes from existing sounds.
Unique Audiosuite based workflow.
All new pitch-shift algorithms.
Envy is currently available for Mac OS 10.8 or greater, in AAX Audiosuite only for Pro Tools 11 or greater. Windows support is coming. The plugin is available at the intro price of $259 USD (RRP $359 USD).
More information: The Cargo Cult