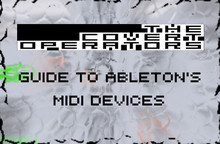 The Covert Operators has announced the Guide To Ableton's MIDI Devices, a series of videos that are a complete guide to Ableton's MIDI Devices.
In 25 minutes time, you will learn what these devices do and in some cases you will see an example of how to put the features of a device into practice.

This Video Manual will show you how you can alter the dynamics of MIDI sequences, it will show how to have accentuated notes in chords, it will teach you things about the Note Length plugin that aren't covered in the Ableton manual and it will give a nice insight into some of the techniques we used to build MIDI Effect Racks.
The Guide To Ableton's MIDI Devices is available for purchase for 10 EUR.
More information: The Covert Operators