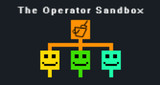 The Covert Operators has released The Operator Sandbox, a powerful new music production package for the popular Operator synthesizer in Ableton Live.
This sizable live pack is the culmination of three sound designers working to create something that goes beyond a sample library.

On the surface: 

The Operator Sandbox is a big music production and sound design toolkit. It contains a variety of Operator-based sounds and patterns generally suitable for Techno/House, but with very little effort they can suit any genre.

Behind the scenes: 

All of the Operator patches, effects chains, note patterns, and modulation envelopes are delivered in the Live Clip format. As a result, these clips can have their sequences and device parameters changed, further automated, and abused to suit your creative needs.

Simply drag the desired Live Clip into Ableton Live and the correct device will automatically be created and ready to modify and/or use.
The Operator Sandbox features
49 Operator instruments.
300 fully customizable Live Clips.
The ability to add more oscillators, effects, and a host of other sound-generating parameters.
A set of editable modulation envelopes and all macro knobs mapped and color-coded for clear visual feedback.
Ability to reverse-engineer every aspect of how the instruments were created, providing a learning tool in addition to ready-made sounds

.
The Operator Sandbox is available for purchase as a download for 34 EUR.
More information: The Covert Operators