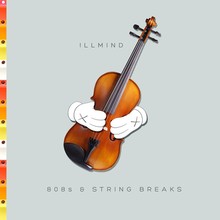 The Drum Broker has announced 808s & String Breaks, a sample pack by !llmind.
"For the longest time, I've had the idea to develop a complete sound kit consisting of nothing but string sections. Classical music has played a huge part in my life, and throughout the years, I've learned to appreciate the various textures that string instruments deliver, regardless of genre, from cellos, to violins, to epic 30 piece string orchestras.

"808s & String Breaks" is a culmination of 2 of my favorite textures: heavy TR-808 kick drums, and royalty-free string compositions. I've partnered up exclusively with www.hiphopdrumsamples.com to bring to you this unique and exciting special edition BLAP KIT. I hope it inspires you to create amazing musical pieces of your own!" -!llmind
!llmind 808s & String Breaks features
Over 120 audio files (over 1.6GB worth) of authentic !llmind 808 kick drums & original string riffs, in 16-bit/44 WAV format.
All string riffs were completely composed by !llmind, including violin solos + groups, cello solos & complete multi-piece string orchestras. String Riffs vary, from aggressive 87 BPM minor chord "street sounding" riffs, to 120 BPM Pop compositions & everything in-between!
All 808 kick drums were sampled from an actual TR-808, into an Ensoniq ASR-10 AND Akai S-20 at 33khz/12-bit for maximum warmth + punch!
The sample pack is available from the Drum Broker for $24.99 USD.
More information: The Drum Sample Broker