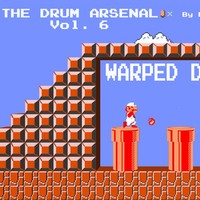 The Drum Broker has announced Drum Arsenal Vol. 6: Warped Drums, a drum sample library by Mike Chav.
This collection is called 'Warped Drums' because I have taken each kick and snare, copied it and 'warped' them until I had several variations of the original drum. I warped each sound with varying methods using different effects settings, time compression/expansion etc. Playing different variations of the same sample (at the same or different velocities) is a way to achieve a new kind of pocket that can only be made with a drum machine/sampler and sequencer.

The idea is to mimic the feel a great drummer while using synthetic sounds and a sequencer.

These sounds vary from modern, heavy, dirty, clean, wet, effected etc etc. They are all sonically awesome. With this collection your music will sound pro and mixed before an engineer even touches it –if one touches it at all! This collection has been created with the best of analog, digital and human (ears, brain) equipment.
The Warped Drums pack is available to purchase for $24.99 USD. It is also included in the Mike Chav bundle (6 packs) for $99.99 USD.
More information: The Drum Sample Broker