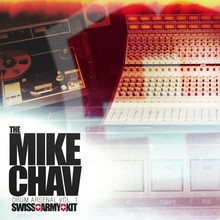 The Drum Sample Broker has released the Mike Chav Drum Library, a collection of 4 drum kit sample packs.
Taught the art of Drum Science by the late J Dilla, Mike Chav is one of the industry's top engineers & sound designers. He's Jay Electronica's engineer/right hand man and a good friend of the late J Dilla.

Chav has mixed and mastered records for everyone under the sun including: J Dilla, Eminem, D12, Snoop, The Game, Busta Rhymes, Method Man, Redman, Jay Electronica, Bilal, and Dr. Dre to name a few.
Mike Chav Drum Library features
Drum Arsenal Vol. 1 Swiss Army Kit – 96 samples created with the approach of a producer and the technical skill of an engineer, using the highest quality analog and digital signal processing.
Drum Arsenal Vol. 2 Dirty Edition – 48 samples, sonically inspiring as Vol 1. but this time they are DIRTY. These drums have all that extra shit, the noise, the hum, the sampler modulation, the hat bleed and tails on the kick and snare samples.
Drum Arsenal Vol. 3 808's & Booms – 48 unique takes on the same old sound that everyone uses. Many of these were sampled directly from an original 808 machine and then twisted and turned through various gear and synthesizers then sampled through the finest analog gear and digital converters (Prism, Radar, Lavry).
Drum Arsenal Vol. 4 Electronic Edition – picks up where Vol 3. 808's & Booms left off; this collection of 48 16-bit Drums explores electronically generated sounds that can fit well into many genres like, hip hop, rap, electronica, pop, electro and more.
Drum Arsenal Vol. 5 Ultimate 909 – meticulously sampled collection of the ledgendary TR-909 Drum Machine. Processed through a SSL 4000G with plenty of headroom to tweak.
Includes pre-formatted programs for: EXS24, Battery, Maschine, Fruity Loops, Reason, Akai MPC.
The sample pack bundle is available to purchase for $99 USD. Individual volumes are $29.99 USD each.
More information: Drum Sample Broker