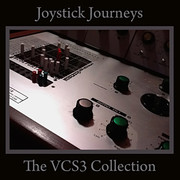 The Electronic Garden has released Joystick Journeys – The VCS3 Collection, a sample library featuring sounds from the EMS VCS3.
This particular collection of samples was created in order to capture the VCS3 in all its chaotic (and sometimes noisy) glory. This isn't your run-of-the-mill synth collection. Yes, there are a number of chromatically "in-tune" patches, multi-sampled up the keys.

Many of these were created with the help of Expert Sleepers' awesome Silent Way MIDI-to-CV conversion software (http://www.expert-sleepers.co.uk/), but many of them were made by painstakingly adjusting the VCS3's "Scale" knobs. Why? Because that's the way my heroes did it way back in the 1970s. It means that sometimes the oscillators surge and beat against one another in interesting ways, especially when the matrix is full of pins!
Joystick Journeys – The VCS3 Collection features
Over 850 16/44.1 kHz and 24-bit/44.1 kHz .wav format samples.
Over 70 patches for Kontakt.
101 REX files, tempos 100, 110 and 120 BPM.
Joystick Journeys – The VCS3 Collection is available to purchase for $20 USD.
More information: The Electronic Garden / Joystick Journeys – The VCS3 Collection