The Loop Loft has announced the launch of The Loop Locker, a new subscription service that offers a huge collection of sample libraries for passionate musicians, singer-songwriters and producers.
Join today for only $1 to start a 7 day trial as a monthly member (cancel anytime), and instantly unlock 2 loop and sample libraries, and receive access to a series of in-depth music production video tutorials AND access to the private Facebook Group.

Want even more content? Join as an annual member and you'll instantly unlock access to over $1,100 in loop and samples!
The subscription offers access to new loop libraries in premium formats, training courses, and private Facebook Group access.
Membership is available per year or month. The first 5,000 members who join get the first year for just $99 USD (regular $199 USD). Use coupon LLFRST99 at checkout.
In celebration of the launch, The Loop Locker is offering a chance to win over $5,000 USD in prizes in the Ultimate Studio Giveaway.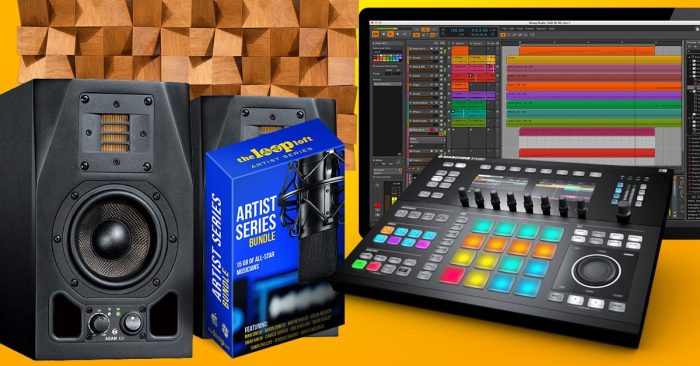 To make the launch of The Loop Locker as exciting as possible, we've partnered with Native Instruments, ADAM Audio, Bitwig and Overtone Acoustics to create "The Ultimate Studio Giveaway".

When you create an account with The Loop Locker, you'll automatically be entered* into a drawing for a chance to win over $5k worth of studio gear. The drawing will take place live on May 14th, so be sure to enter before it's too late.
The prize package include the MASCHINE Studio, a pair of ADAM Audio A3X monitors, Bitwig Studio 2.0, Overtone Acoustics Studio Kit ($1k custom build), and the Artist Series Bundle from The Loop Loft.
The giveaway ends at 11:59:59 PM (ET) on May 14th, 2017.