The Loop Loft has announced the release of Cinematic Drums 2 and Indie Rock Drums II drum kits for Native Instruments Maschine.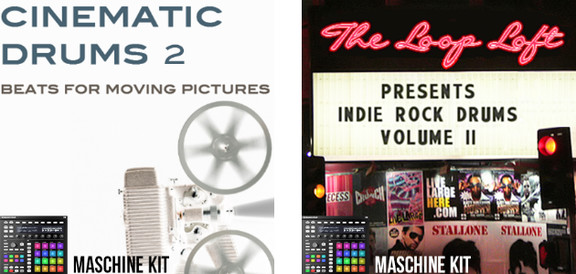 Cinematic Drums 2 — Producing music for the big screen requires big sounds, and that's exactly what the Cinematic Drums 2 MASCHINE kit provides. From thunderous toms to rolling civil war-era snare drums, this kit will pack a punch to your next track.

Indie Rock Drums Volume II — From the post-hardcore aggressiveness of Fugazi, to the slapbacked echos of Built to Spill, to the gritty blues of The Black Keys, this MASCHINE kit will give you those authentic DIY drums you've been searching for.
The Maschine Kits are available to purchase for $9 USD each. A bundle of all 12 Maschine Kits costs $84 USD (save 30% off regular).
More information: The Loop Loft / Maschine Kits