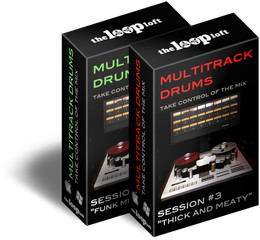 The Loop Loft has released Funk Meets Fusion and Thick & Meaty, two new multitrack drum sessions.
What would it sound like if legendary funk drummer, Clyde Stubblefield (James Brown) joined a legendary fusion band like Weather Report, and they only performed in dance clubs where the tempo was regulated to 128 bpm? Well, we're not sure if such a bizarre/awesome union like this would ever occur, but if it did, the drums would probably sound a lot like our latest multitrack release, "Funk Meets Fusion".

Just like the name implies, the Thick and Meaty Multitrack Sessions are loaded with drums that give you plenty to chew on… and more. Using one of our beloved birch studio kits, we slapped on some extra-punchy Remo Pinstripe heads and pulled out our ultra-aggressive brass snare drum, all to give you a sound that is fat, juicy and totally in your face. Along with all of the individual drum tracks, we also captured the room sound on a separate channel, putting an even bigger (and natural) sound at your disposal. Just adjust the faders and mix to taste!
The Funk Meets Fusion and Thick & Meaty sample libraries are available to purchase for $15 USD each.
More information: The Loop Loft