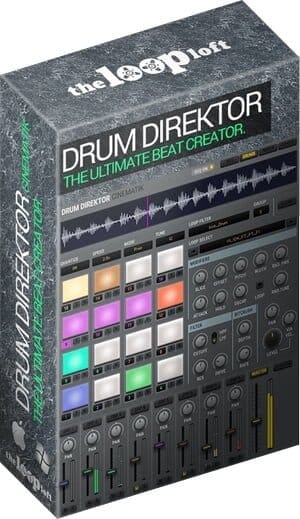 The Loop Loft has announced the release of Drum Direktor Cinematik, a virtual instrument that gives you complete, hands-on control over Loop Loft loops and samples.
Are you ready to take cinematic drums to the next level? Introducing Drum Direktor CINEMATIK from The Loop Loft. A revolutionary loop player, step sequencer, drum pad player, effects unit and mixing station, designed for the creative producer.

Drum Direktor CINEMATIK is built on the same framework as our popular FNK-4 instrument, but with a completely new library of loops, sounds and presets geared towards cinematic production. Thunderous toms, mysterious metallic percussion, pulsating undercurrents of rhythm and much more are now directly at your fingertips.

Drum Direktor CINEMATIK supports Native Instruments NKS. CINEMATIK will be mapped to NKS hardware controllers straight out of the box, enabling you to use CINEMATIK with the Light Guide, Smart Play features, and the full creative potential of KOMPLETE KONTROL without any configuration hassle.
Drum Direktor Cinematik features
Internal 32 Step Sequencer with 8 recallable patterns that allow for the simultaneous sequencing of loops and samples within a single instrument. Shuffle, Global Accent, Step Dynamics, Per group Sequencer Precedence and a convenient layout of Solo, Mute and Drum Loop auditioning all make sequencing patterns within Drum Direktor a natural and fast process.
Flexible grouping architecture which allows for sophisticated organization and structure of drum loops and samples with easily identifiable colors and workflow features usually reserved for dedicated hardware workstations.
Powerful Drum Pad infrastructure which allows for 16 simultaneous loops or samples from a collection of over 300 to be played and sequenced simultaneously with a clear waveform overview and playback positioning.
A feature rich tools set of tools for processing each individual Drum Pad. Users have the ability to set playback quantization, playback speed, sampler mode, slice start time, pitch, stereo width, randomization, filtering, distortion, velocity, volume and pan on each of the individual 16 Drum Pads.
A dedicated mixer for processing each of the 8 individual drum groups with high quality internal effects which include a Transient Shaper and Compressor/EQ modeled after a famous Solid State Console.
Global Effects for Delay, Reverb and a powerful Tape Machine which allows for quick and powerful tone shaping. The Drum Direktor Tape Machine matches the quality and workflow of mixing drums to a multi-track tape machine in a fast and easy to use custom design.
Internal master bus processors including EQ, Compression, Filtering and Distortion for a polished mix ready sound without ever having to use external effects or plugins.
Powerful MIDI mapping controls for configuring Drum Direktor to behave exactly the way you want to work with your existing MIDI controllers.
Highly customizable group options including user definable colors, choke times and external output for further processing and mixing within your favourite DAW software.
Low RAM and CPU usage options for compatibility with a wide range of systems.

Drum Direktor Cinematik is available for purchase for the introductory price of $74 USD until March 14th, 2016.
More information: The Loop Loft