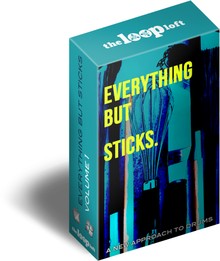 The Loop Loft has introduced Everything But Sticks, a sample library featuring drum loops and samples recorded without using sticks.
Let's be honest. 99% of the drum loops in existence use sticks. This isn't necessarily a bad thing, but isn't it time to do something different? This is why we set out to produce Everything But Sticks, a collection of loops and samples that take a new and fresh approach to grooves on the drum set.

By using a wide variety of brushes, mallets, bundles, kitchen utensils and even our bare hands, we were able to pull out an entire range of timbres and dynamics from the drum kit that sticks simply can't produce.
Everything But Sticks includes 256 loops and 87 samples (48 kHz/24-bit) and is available to purchase for $49 USD.
More information: The Loop Loft