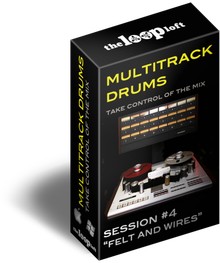 The Loop Loft has released Felt & Wires, a new multitrack drums sample library.
Take the melodic mallet drumming of Art Blakey, combine it with warm brush strokes of Philly Joe Jones and mix it together with some 21st century backbeats, and you get our latest Multitrack Drums release, "Felt and Wires".

Consisting of six individual channels of drum set mics along with 4 channels of percussion, this collection gives you complete control over a very orchestral, dynamic and ethereal sounding session that will appeal to film scorers, songwriters and instrumental composers alike.
Felt & Wires is available to purchase for $15 USD, or as part of the newly released Multitrack Drum Sessions Bundle, a collection of 4 sample packs.
We've bundled the first four releases of our popular Multitrack Drum Sessions, giving you over 2 gigabytes of individually tracked drums, cymbals and percussion, all at a 25% discount! From straight up pop backbeats, to highly syncopated funk/fusion, to dramatic orchestral percussion, this bundle of Multitrack Drum Sessions will give you a wide range of arrangement options and grooves, as well as the flexibility and control that only individually tracked drums can provide.
The Multitrack Drum Sessions Bundle is $45 USD (25% off regular price).
More information: The Loop Loft