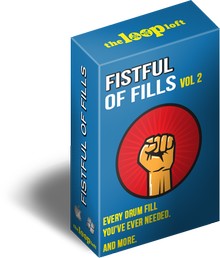 The Loop Loft has introduced Fistful of Fills Volume 2, a new collection of 200 drum fills.
Drum fills. They're arguably the most exciting part of a song, yet also the hardest to program or record to make it feel "right". This is why we culled hundreds of fills from every recording session we produced in the past year into this exciting new collection. Introducing Fistful of Fills Vol 2!

From thunderous walls of toms, to funky snare flams, to roaring jazz crescendos, Fistful of Fills provides you with 200 unique drum fills, spanning every genre of music. From 70 to 190 bpm, from bebop to indie rock, you'll find that perfect fill to move things forward.
The sample library costs $29 USD. Volume 1 and 2 are also available at a 25% savings with The Fistful of Fills Bundle, priced at $43.50 USD.
More information: The Loop Loft / Fistful of Fills Vol 2