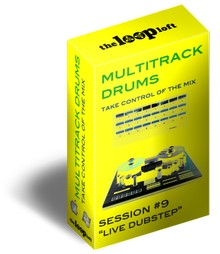 The Loop Loft has released Live Dubstep, a collection of multitrack dubstep drums.
With bombastic Bonham-inspired backbeats and highly syncopated Stewart Copeland-esque hi hat patterns, "Live Dubstep" infuses the excitement and articulation of live rock drums with the grimey, halftime feel of dubstep. Clocking in at the dead center tempo of 140 bpm, this release serves up a wide assortment of grooves and fills (yep, plenty of triplets), allowing endless possibilities for customizing your tracks. And with the multitrack format, you have total control over every element of the kit; from gating and eq'ing the kick to filtering and throwing a delay on one of the snares (yep, we tracked two snares).

If you're a serious dubstep producer looking for real drums (with total control of the mix), or a songwriter looking to incorporate some dub elements into your own compositions, then "Live Dubstep" is the Multitrack Drum Session for you!
Live Dubstep is available to purchase for $15 USD.
More information: The Loop Loft / Live Dubstep