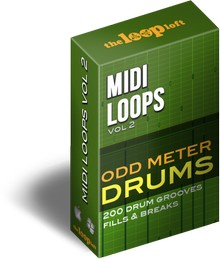 The Loop Loft has released Odd Meter Drums, the second title in the MIDI Drum Loops series.
When it comes to odd meters, there's a certain art to making them feel "natural" and well, not "odd". With proper phrasing and emphasis on certain beats in the measure, odd meter grooves can flow as smoothly as any straight 4/4 rhythm. With our latest MIDI loop release, Odd Meter Drums, we took this natural approach to create six complete sessions in six different odd time signatures.

We approached each session with a focus on a particular genre (including indie rock, cinematic, funk, hip hop, fusion, and glitch) and then put a slight twist on each, performing them in time signatures such as 5/4, 11/8, 9/8, 3/4, 7/8 and even 15/8. The result? A massively diverse compilation of odd meter grooves that actually "groove".

These MIDI sessions are compatible with every DAW including Ableton Live, Reason, GarageBand, Pro Tools, Logic, Cubase and any other program that utilizes .mid files.
Odd Meter Drums is available to purchase for $29 USD.
More information: The Loop Loft