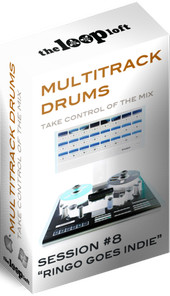 The Loop Loft has released Ringo Goes Indie, a new multi-track drums sample library.
Extremely dry. Extremely punchy. Extremely awesome. That is the drum sound that Ringo Star made famous with The Beatles in the mid to late 1960's. By placing tea towels on his drum heads and using an abundant amount of compression, Ringo, along with engineer, Geoff Emerick, created a signature sound that is still sought after by producers and artists to this day.

For this Multitrack Drum Session release, we utilized the "towels on the drums" method while playing an assortment of indie pop grooves and fills. The result? A vintage sound with a modern day feel, perfect for songwriters and producers looking for that "classic" vibe, along with the flexibility of multitracked drums.
Ringo Goes Indie is available to purchase for $15 USD. It is also included in the Multitrack Drums Bundle 2 for $45 USD (25% off the price of the four individual packs).
More information: The Loop Loft