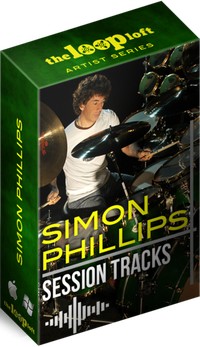 The Loop Loft has released the Simon Phillips Session Tracks, a collection of drum loops.
Chock full of essential loops to form the building blocks of your rock songs, Session Tracks features master drummer Simon Phillips (The Who, Jeff Beck, Joe Satriani, Mick Jagger, Toto etc.) laying down groove after groove, inspired by some of rock's greatest moments, from AC/DC to Led Zeppelin to ZZ Top. No MIDI, no machines – just REAL DRUMS played by one of the best drummers in the world.

Throughout 34 'Drum Sessions' across a wide range of tempos, Simon Phillips turns in a dynamic performance across a variety of rock styles from Brit hard rock to Texas blues. Each 'Drum Session' contains all the parts you'll need to create your song (Verse, Chorus, Fills etc). Simply choose a drum session that matches your tempo and feel, then drag and drop the parts into your sequencer software and arrange as you like to create professional drum tracks in seconds. Mix and match loops from different sets and use the full single-hit collection to add crash cymbals, kicks or extras to the loops to increase realism or build your own custom kits.
Simon Phillips Session Tracks features
Stereo Loop Sessions Contain:

Over 400 stereo drum loops arranged in 34 Drum Sessions.
Complete Stereo single hit library including snares, kicks, toms and cymbals.

Multitrack Sessions Include:

Over 400 drum patterns arranged in 34 Drum Sessions – each includes at least 5 component loops: Kick, Snare, Tom OH, Hats and Room.
Complete Multi-track single hit library including snares, kicks, toms and cymbals.
The sample library is available to purchase, starting at $44.25 USD.
More information: The Loop Loft / Simon Phillips Session Tracks