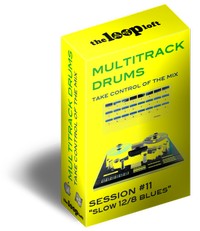 The Loop Loft has released Slow 12/8 Blues, a collection of multi-track blues grooves.
It's the groove that defines every great blues artist who has ever lived. From Robert Johnson, Buddy Guy, John Lee Hooker, Muddy Waters, Stevie Ray Vaughn, B.B. King, Eric Clapton and a host of other greats, it's this laid back pocket that has provided the foundation for some of the most inspiring and soulful blues songs of the past century.

For this Multitrack Session, we got back to the roots of the blues, laying down a multitude of slow (63 bpm) backbeats, fills, breakdowns, builds and endings. With every component of the kit individually mic'd and on separate channels, we provide you with complete control over the drum mix. If you're a serious blues artist looking to customize your own authentic drum tracks, then Slow 12/8 Blues is the Multitrack Session for you.
The Slow 12/8 Blues sample pack is available to purchase for $15 USD.
More information: The Loop Loft