The Loop Loft has launched another round of Weekend Deals, offering up to 90% off selected sample packs and bundles.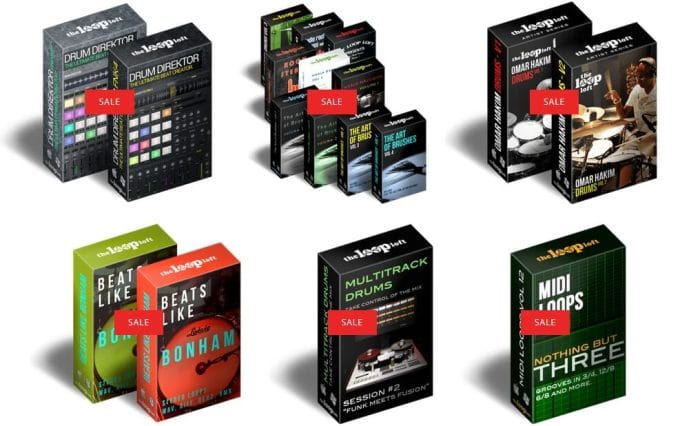 Save up to 90% on these 6 hand-picked collections + Sax Loops for Free!
Weekend Deals
Drum Direktor Bundle $89 USD (regular $298 USD) — The ultimate beat creating bundle is here. The Drum Direktor Bundle gives you instant access to both of our popular CINEMATIK and FNK-4 instruments, all at a 50% bundled savings!
The Songwriter Drum Bundle $39 USD (regular $390 USD) — From mellow brush drums, to hip (but not overproduced) indie rock drums, to layers of percussion from around the world, The Songwriter Bundle gives you the beats and sounds you need to craft your next song (at a 90% bundled savings).
Omar Hakim Drums Bundle — $27 USD (regular $98 USD) — We've bundled up Volume 1 and Volume 2 of our popular Omar Hakim Drums (David Bowie, Daft Punk, Miles Davis) loop and sample collections, giving you instant access to one of the world's greatest drummers, all at a 30% bundled savings.
Beats Like Bonham Bundle $39 USD (regular $98 USD) — The grooves made famous by John Bonham are now at your fingertips. Introducing Beats Like Bonham Drum Loops. Following the success of our hugely popular Bonham Complete Takes series, we have designed a new stereo loop set collection, giving you all of the beats in 24 bit 48 kHz clarity and in a wide range of formats including WAV, REX2, AIFF (Apple Loops) and Stylus RMX, allowing you to easily drag and drop the loops into the DAW of your choice.
Funk Meets Fusion – Multitrack Drums Session #2 $6 USD (regular $15 USD) — What would it sound like if legendary funk drummer, Clyde Stubblefield (James Brown) joined a legendary fusion band like Weather Report, and they only performed in dance clubs where the tempo was regulated to 128 bpm? Well, we're not sure if such a bizarre/awesome union like this would ever occur, but if it did, the drums would probably sound a lot like our latest multitrack release, "Funk Meets Fusion".
Nothing But Three – MIDI Drum Loops $11 USD (regular $29 USD) — Does the world need another 4/4 beat? If you've ever asked yourself that question, then this is the MIDI drum loop collection for you. Nothing But Three is the first MIDI groove release to feature ONLY loops in 3.
The sale ends March 21st, 2016, 12:00am EST.
More information: The Loop Loft / Weekend Deals