The Loop Loft has announced another round of Weekend Specials, offering up to 90% off selected packs and bundles.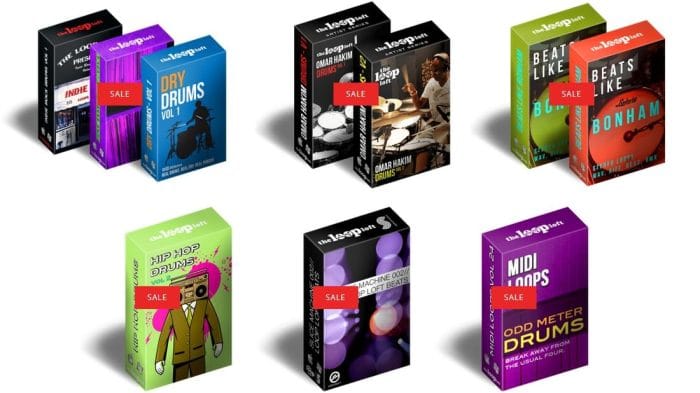 Save up to 90% on these 6 hand-picked collections + receive Multitrack Drums for FREE!
The Loop Loft Weekend Special
Ableton Ultimate Drums Bundle – $25 USD (regular $147 USD) – If you're an Ableton user looking for punchy, fat, funky and live drums that will cut through any mix, these are the drums you've been waiting for. The Ableton Ultimate Drum Bundle features three of our most popular Ableton Live Packs including Dry Drums, Funk Essentials…
Omar Hakim Drums Bundle – from $27 USD (regular $158 USD) – We've bundled up Volume 1 and Volume 2 of our popular Omar Hakim Drums (David Bowie, Daft Punk, Miles Davis) loop and sample collections, giving you instant access to one of the world's greatest drummers, all at a 30% bundled savings! This massive bundle features 467 unique grooves, fills and bre…
Beats Like Bonham Bundle – WAV, REX2, AIFF & Stylus RMX – from $39 USD (regular $129 USD) – The grooves made famous by John Bonham are now at your fingertips. Introducing Beats Like Bonham Drum Loops. Following the success of our hugely popular Bonham Complete Takes series, we have designed a new stereo loop set collection, giving you all of the beats in 24 bit 48 kHz clarity and in a…
Hip Hop Drums Vol 2 – from $15 USD (regular $44 USD) – Live Hip Hop Drums are back. With a wide range of sonic textures, funky grooves, fat kicks and thick snares, Hip Hop Drums Volume 2 is the complete solution for producers seeking both authentic samples and beats. Each session of grooves comes with a multitude of beat variations (different kick, s…
Kontakt 5 Slice Machine 002 // Loop Loft Beats – $15 USD (regular $49 USD) – Introducing Slice Machine 002 // Loop Loft Beats, a custom beat slicing machine for Kontakt 5 containing 225 of the finest drum breaks from The Loop Loft. Teaming up with our friends at Samplephonics, we developed the first Kontakt instrument to allow users to easily add, move around and effec…
Odd Meter Drums Vol 3 – MIDI Drum Loops – $11 USD (regular $29 USD) – Introducing Odd Meter MIDI Drums Vol 3. An incredibly inspiring collection of MIDI drum grooves in 5/8, 5/4, 9/8, 9/4, 7/8 & 3/4. The latest edition to our Odd Meter MIDI series, this collection features six complete drum sessions, each in a unique odd time signature. Just drag and drop int…
The sale ends May 23rd, 2016, 12:00am EST.
More information: The Loop Loft / Weekend Specials