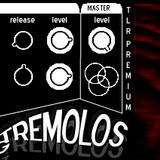 The Lower Rhythm has announced the release of Dueling Tremolos, an effect plug-in for Windows.
Dueling Tremolos is a phase-based tremolo effect that can be used either with one or two engines; each of which has its own rate, attack, release and volume, making for some very nifty modulation combinations. In addition, engine B can be phase inverted in order to differently interact with the rest of the wet signal!
Dueling Tremolos features
2 tremolo engines.
Attack and Release shaping.
Interaction of engines via cross phasing.
Dueling Tremolos is available to purchase as a VST effect plug-in for Windows PC, priced at $8.99 USD.
Visit The Lower Rhythm for more information.