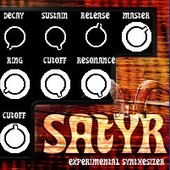 The Lower Rhythm has announced the release of Satyr, a virtual synthesizer instrument for Windows.
Simply put, Satyr is a unique sounding experimental synthesizer that is based around the idea of using your MIDI pitch signals to modulate two Moog-style filters as white noise is crammed through them. Each of these filters offer you up seven different resonance settings that will alter the overall sound differently based on which arrangement they're in. Throw in optional channels of tube-style saturated drive and ring modulation, with fat global lowpass filtering AND yet another variable white / pink noise blend and you have… well, with this one we're just going to say: try it and find out.
Satyr features
Twin noise oscillators 'pinched' through Moog style LP filters.
Seven different resonance settings for each oscillator.
Global amplitude envelope and LP filter.
Variable tube-emulated drive/saturation.
Variable ringmod.
Additional white/pink noise oscillator array for texture and 'air'.
Satyr for Windows (VST) is available to purchase for $18.99 USD.
More information: The Lower Rhythm