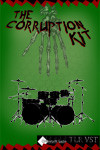 The Lower Rhythm has announced the release of The Corruption Kit, collection of 112 samples taken directly from the kit of Evan Munger, drummer of the Orlando band Cure the Corrupt.
This is a pissed off sounding sample set, reflecting the fast pace and almost violent playing style Evan brings to the table.

Mic'd with a pair of AT4041's on overheads, an array of Audix mics (D6, D4, D2) and the classic choice of SM57's on the snare, this kit lends itself rather well to aggressive music.

Two folders are included: clean and dirty — dirty being a version of the samples processed with our Rhinoceros VST effect.
The Corruption Kit is available to purchase for $19.99 USD.
More information: The Lower Rhythm