Planet Botch has announced the release of two new free organ instruments for Windows.
The Seductress captures the archetypcal vintage mechanical sound, with a grungy yet smooth rotary speaker onboard.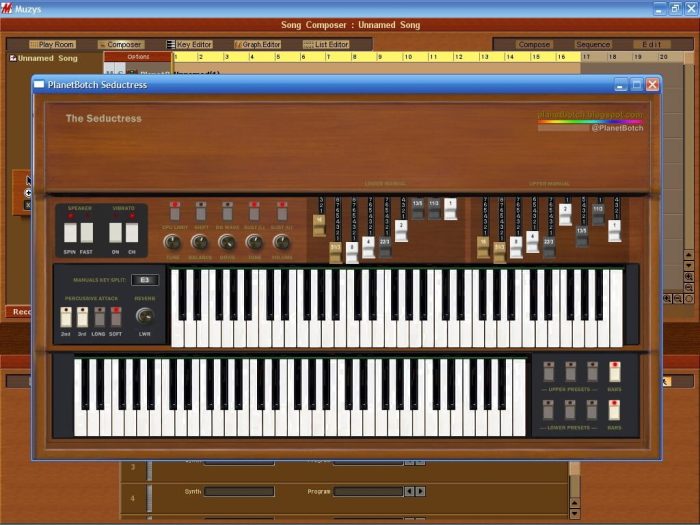 The plugin is a dramatic update on 2012's Classic H plugin, with completely new algorithms and major improvements.
The Seductress recreates two sets of tonewheel drawbars, a tube-driven, dual-spin rotary speaker, scanner vibrato/chorus, authentic percussion, vintage-correct drawbar foldback, warm and smooth overdrive – all the ingredients that make up what most modern organists regard as "that sound".

The distant predecessor of this plugin was the Classic H, which did the rounds some years back, finding its way onto magazine cover discs and the like. But the Seductress is a completely rebuilt instrument with far more sophisticated algorithms, a hugely superior rotary, and increased accuracy across every feature. Aside from the vastly improved sound, now fully synthesized rather than sample-based, here are some of the key improvements over the Classic H…
The Seductress features
Authentic drawbar foldback for a vintage tonewheel organ.
Vintage-accurate percussion envelope, which re-triggers only when no other notes on the manual are held down.
New, custom-matched DirtySwirl rotary cab emulator, which was designed from the ground up to achieve smooth, tube overdrive, excellent dual-rotor articulation, and the stressed feel of a loud cab even at low volume.
Adjustable reverb.
Selectable drawbar voicing, which gives access to rougher and more rocky waveforms if required. The drawbar voicing is set on the console via the DB WAVE button. When the light is on, you get a pure and smooth drawbar tone which is best for jazz. When the light is off, you get the beefier tone which works better on rock tracks.
A SHIFT function, which raises the pitch of the lower manual by one octave on your input keyboard.
Key-splitting for operation from a single input keyboard, much improved tone and volume scaling across the range, updated vibrato-chorus algorithm, drastic visual makeover… and more.
The Clonewheel VXH is based on the 1991 single-manual digital recreation, the XB2. It is more polite, with a deliberately digital character to its output.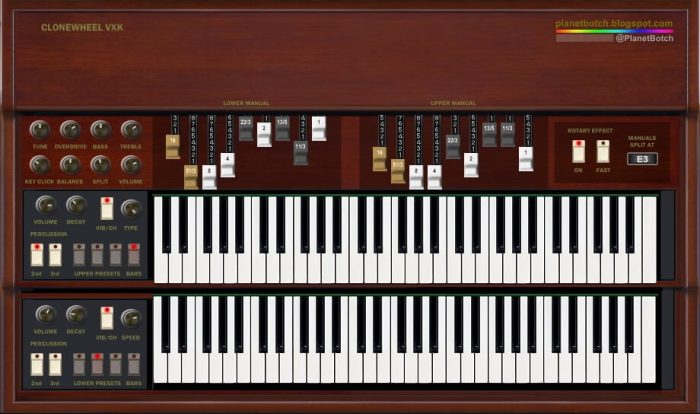 Early digital clonewheels got much closer to the sound of a real tonewheel organ than their analogue predecessors. But they had an air of politeness that still distinguished them from the genuine mechanical article.

The Clonewheel VXH is visually packaged with a single manual, but like all of the current series of virtual organs from Planet Botch (and the original 1991 instrument on which it's modelled), it offers flexible key-splitting.

The features are all on the console, and will be self-explanatory to anyone interested in classic electric organs.
Both instruments are available to download for free in 32-bit VST format for Windows.
More information: Planet Botch