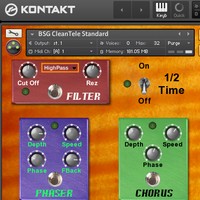 The Sound Department – Austin has announced the release of Beat-Sliced Guitars, its first sample based instrument for Kontakt.
This is an innovative, dynamic, beat oriented guitar instrument set unlike any other.

It's simple really – guitar played rhythmically in all the common note length variations and two playing styles, sampled and sliced so that it stays solidly in time with your host. Add some Kontakt magic like filters, delays and envelope loop patterns and voila – an incredibly expressive, inspirational and downright fun to play instrument! Multis extend the possibilities by adding a second or third instance with different keyswitch mappings so that more interesting and complex rhythmic patterns arise as different keyswitched note values are played against each other.

If you're looking for an instrument that will let your guitar-slinger solos sound as close to a "real" guitar as possible (or as close as midi will allow), look elsewhere. What these instruments will do is provide a fresh and organic rhythmic timbre that is at once unique and familiar. No matter what your style, these instruments will give your compositions a solid edge.
Beat-Sliced Guitars features
348 48kHz 24-bit sample loops per instrument (~180 MB uncompressed)
29 notes (C1 – E3) and 6 common time values (whole, quarter, quarter triplet, eighth, eighth triplet and sixteenth)
Each note value and note length performed, sampled and looped for a 4/4 measure or more with two performance styles – staccato (or palm mute) and legato. Original loops are at 75 BPM but are sliced (ala REX files) so that they are useful over a wide range of tempos. We have also included a '1/2-Time' switch for programmers who like to double their tempo for finer resolution.
Velocity switches between staccato and legato playing styles.
Keyswitches control the note length values.
Performance controls allow you to easily map parameters like filter cutoff and delay amount to your controller.
Compatible with Kontakt 5.1 and later. Does not work with Kontakt Player.
Beat-Sliced Guitar libraries are available for the introductory price of $12 USD each (regular $18 USD).
More information: The Sound Department – Austin