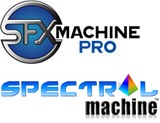 The Sound Guy has launched a limited time Black Friday Special, offering a discount on a bundle of its SFX Machine Pro and Spectral Machine.
SFX Machine Pro is like zillions of plug-ins in one. The advanced Preset Editor gives you direct access to the modular synthesis parameters that make up a preset.

Spectral Machine™ features a wide range of unique frequency-domain effects, including:

Spectral Freeze
Delay Spectral Bands
3-band Amplitude Modulation
Harmonize
Pitch Quantization
Until the end of November, you can purchase a bundle of SFX Machine Pro and Spectral Machine for $99 USD (list price $149.99 USD + $49.99 USD).
More information: The Sound Guy