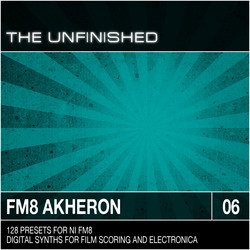 The Unfinished has launched FM8 Akheron, a collection of 150 sounds for the FM8 software synthesizer by Native Instruments.
I felt it was time to wade knee deep into the waters of FM synthesis, and there is no better softsynth exponent of this than Native Instruments' FM8. A deeply complex, obstinate, but creative and rewarding synth.

The result is FM8 Akheron, a collection of 150 patches aimed at atmospheric film scoring and dark electronica. From bright, delicate sounds to bleak, desolate noises – FM8 Akheron has a wide breadth of sonic possibilities.

Crisp, metallic leads; powerful, rattling basslines; evocative, crystalline pads; eerie, atonal landscapes; penetrating, dynamic sequences; and huge, noisy basses.
The soundset costs £19.99 GBP.
The Unfinished has also launched its Fab Summer Sale, offering a discount on soundsets.

All The Unfinished soundsets* and bundles are on sale at 33% off until the end of August. Oh happy day.
Use discount code FABTASTIC at checkout to take advantage of this limited time offer.
More information: The Unfinished