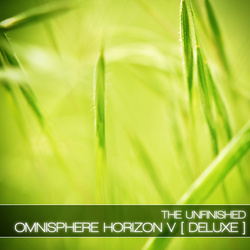 The Unfinished has announced the release of Omnisphere Horizon V, a collection of 128 patches for Spectrasonics Omnisphere. It also comes in a Deluxe Version with 195 patches.
Horizon V is squarely aimed at the television underscore and independent film scoring vibe. There is a strong blend of the acoustic and the synthetic: both growling and delicate string instruments meet dark and lush analogue sounds. Melding organic bowed textures, airy guitars and pseudo-folk vibes with bristling, warm synth classics and evolving techno pulses; this soundset captures the intimate, innovative spirit of scoring for the small screen, as well as films and games that steer away from the Hollywood aesthetic.

This collection delivers haunting pianos, melancholic soundscapes, colourful guitars, eclectic strings, and supports them with impulsive basses, kinetic percussion, rich pads and robust synths.

With the launch of Omnisphere 2 not so very far away, this will be the last release in the Horizon series – but it is ending on a high. As well as the normal version of Horizon V, there will also be a Deluxe version featuring an expanded total of 195 patches, rather than the normal 128.

Omnisphere Horizon V: Deluxe takes several of the patches from the extensive Arps + Rhythms section and re-works them in different time signatures (5/4 and 3/4) to give them extra life. It also turns some of the sounds from the Arps + Rhythms section into individual, playable instruments. This adds a number of new basses, percussive noises and plucked instruments to the collection.
Omnisphere Horizon V and Omnisphere Horizon V: Deluxe are available for purchase for £19.99 GBP and £24.99 GBP, respectively (prices ex. VAT).
Until March 6th, 2015, a purchase of Omnisphere Horizon V: Deluxe includes a bonus soundset: Omnisphere Capricorn.
This bonus collection of patches come from a small The Unfinished side project and features 70 extra patches, primarily designed using Omnisphere's extraordinary collection of analogue synth sound sources. It makes an excellent accompaniment to Omnisphere Horizon V: Deluxe.
More information: The Unfinished