Michael Schiess (curator, Neptune Beach Amusement Museum and Lucky JuJu Pinball Arcade) writes about The Visible Pinball Project, a 1976 "Surf Champ" Gottlieb pinball machine transformed into a completely transparent pinball machine.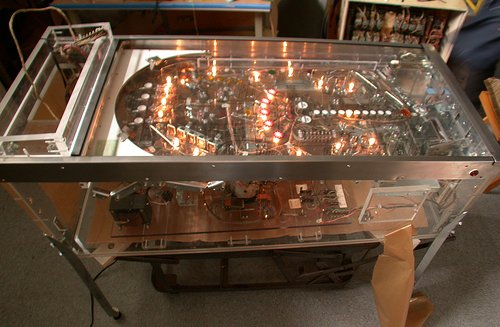 Michael writes:
This project started as most do; out of necessity. I was teaching classes in Interactive Kinetic Art (pinball) and I had a need to show students what was happening inside the machine while it was running. It was difficult to prop the playfield up and trigger various switches on the playfield to simulate play. I first thought a clear window on the side would be nice but it seemed so "hacked" I then thought of making a clear playfield and then the idea of a totally see through machine hit me. That way you could see the mechanical board and the scoring in the head.
The Visible Pinball Project took more than a year from inception to creation, and can now be seen at the first public showing at this year's Pacific Pinball Expo.
Check this Flickr gallery for more images.