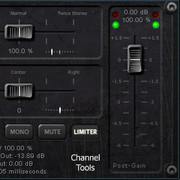 ThePriest has released a beta version of ChannelTools, a free VST effect plug-in for Windows.
ChannelTools is a freeware VST plug-in to perform various tasks, primarily to control and analyze the levels of signals and to check and modify the stereo image.
ChannelTools features
Written in C++, unique buggy :) DSP algorithms developed by myself.
Awful GUI designed by myself.
Purely digital, not analog modeled.
Two gain faders with leds for activity (green leds) and clip (red leds).
Configurable gain smoothing.
Stereo width fader (0 to 200 %) with correlation meter.
Pan fader with "stereo position meter".
Swap left and right channels.
Invert phase.
Mono.
Mute.
Limiter (hard limiter, not analog modeled, digital).
Metering (peak and RMS).
Double precision (64-bit) floating point internal processing engine.
Double precision (64-bit) floating point audio output on VST 2.4 compatible hosts.
Full automation support.
Any sample rate supported.
Zero latency.