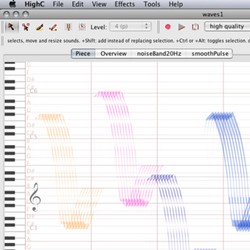 Thomas Baudel has released version 2.75 of HighC, a graphical music creation tool featuring a synthesizer, a sequencer and a mixer.
HighC uses only the simplest GUI techniques: draw notes, envelopes and wave shapes; move and resize sounds; copy and paste to create effects; group sounds into rhythms or patterns; repeat your groupings to create an harmonic line; link your sounds to one another to create modulations… It's simple, it's powerful!
Changes in HighC v2.75
Printing functionality, enabling export to PDF file format.
Overview shows the cursor in all views during playback.
Set the default pitch of imported sound samples (to correct potential pitch detection algorithm errors).
Tune the sampled audio files.
Audio file import in the FLAC format. FLAC is a lossless audio compression format that saves about 2/3rds of the original file size.
Distribution reduced from 16 to 10Mb.
HighC is available for Windows, Mac and Linux (Java required). It is free for simple entertainment and educational use. The full feature set can be unlocked by purchasing a license at 29.99 EUR.
More information: HighC