Three-Body Technology has announced the release of Raindrop & Blade, a virtual instrument with the sounds of the Yangqin, a traditional Chinese instrument based on Chinese hammered dulcimer.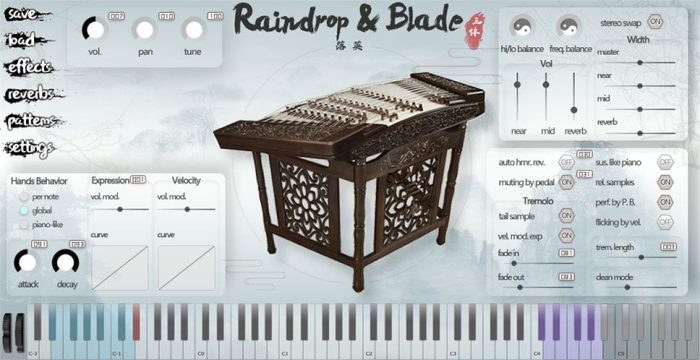 With the concept "not only capture the sound of the instrument, but also present the feeling of ancient China", Raindrop & Blade will bring you the beauty and mystery right into your studio, rather than experiencing it from some books or TV shows about ancient China.

Completely self-developed, high-performance sample engine ensures better sound quality, with effects from H7S and 108 MIDI patterns made by professional Chinese Yangqi musicians, make it easy to create the sound like raindrop, without losing its intense feeling.
Raindrop & Blade features
6,208 samples, 44.1kHz/24-bit recording.
Custom high performance sample engine with better sound quality, faster DFD (direct from disk) Stream, optimized samples compression and new tone transition technology.
5 velocity layers, 3-5 RR (round robin) samples.
Extensive Tremolo and Clean Mode.
Common performances include tremolo, flicking, hammer revert, muting, and noises, etc.
Hand and pedal release samples.
Yin-Yang Button allows you to transit between polar contrast feelings.
Includes recorded near and mid-field + simulated far-field through reverb.
Adjustable parameters (sound field ratio, width) offers diverse tones.
Convolution reverb samples from spectacular places, famous natural and historical heritages in China.
Complete pattern library including rich preset patterns. Drag MIDI patterns into the host. Create your own patterns.
Compressor, EQ, Chorus and Ping-Pong delay from the Heavier7Strings' effect rack.
Various tone presets from traditional to experimental.
Raindrop & Blade for Windows and Mac (VST/AU/AAX) is on sale for the intro price of $149 USD (regular $179 USD).
More information: Three-Body Technology