Tim Exile has announced the release of SLOO, a voice swarm synthesizer instrument for Native Instruments Reaktor.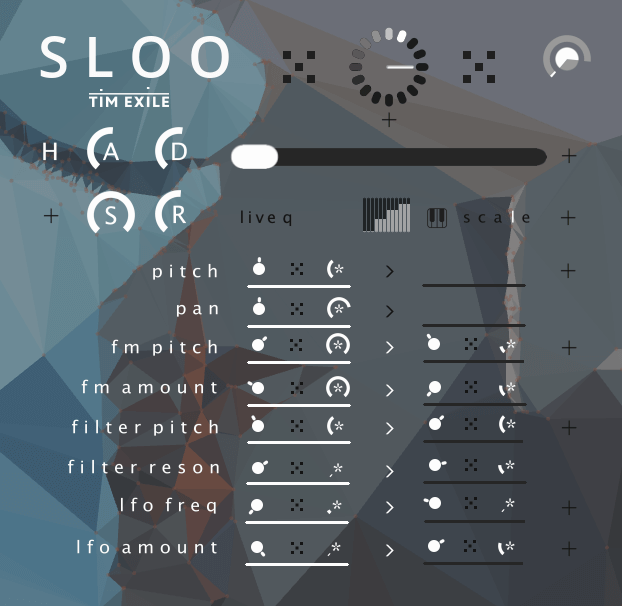 Whether you're into hardware, virtual analog, digital wavetable or eurorack, a synth should be a unique and agile beast: tightly controlled for composition, hands-on for jamming, unpredictable for inspiration and sound like nothing else on earth. As long as that's covered all the rules can be broken. This is the spirit behind SLOO.

SLOO's sound can vary from immense density to shimmering filigree in a heartbeat due to its voice swarming algorithm. This allows dramatically morphing sonic transformations, powerful expression in a live performance and flexible control in the studio. Spin the modwheel to morph live from a crisp monosynth into a polyrhythmic chord without the need to grow an extra 30 fingers. Use the Morph bar to transition from a meaty kick drum to a spectral atmosphere without getting lost in endless automation lanes.

Voice swarming means high impact and maximum versatility with very few controls. All SLOO's main sound controls are on one page making the 103 included presets instantly tweakable to get to the sound you're looking for. Familiar controls such as Filter Cutoff, Resonance, FM and LFO Speed are intuitive to use while sonic richness and complexity emerge from the swarm patterns beneath the hood. Whether it's a lead, pad, sound FX or a rhythmic sequence you can get to its most modern incarnation in record time.
SLOO features
Standalone or plugin operation through Native Instruments' Reaktor 6.1.1.
103 original presets.
Support for Komplete Kontrol S-series keyboards.
48 parametric voices with multi-shape oscillator, FM, multimode filter and tempo-synced parametric LFO.
Swarm pattern randomising with history and automation.
Parameter morphing.
Scales and scale automation.
Live quantise.
SLOO is available for purchase for £39 GBP.