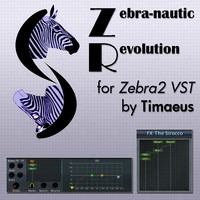 Timaeus has announced Zebranautic Revolution, a soundset for the Zebra software synthesizer by u-he.
180 Zebra2 patches! These patches have multiple genre focuses. Here is a list of genres these patches could contribute to: 80s Retro, Ambient, Chillout, Chiptune, Dance / EDM, Electronica, Film/Soundtrack, Generic Techno, Dubstep, Electro, Jazz Fusion, Synthpop, Synth Rock.

Each one was made with deep velocity considerations, intricate sound design, and careful attention to EQ. There are, without a doubt, at least 40 you will love, if not more. Those patches with an appended "+" have XY controls, as per the convention. Sound demos will feature my personal favorite patches, but they are extremely flexible and can be used for almost anything. Patches are categorized into types of sounds, so find what you need!
The soundset is available to purchase for $15 USD. A demo bank with 20 patches can be downloaded at no cost.
More information: Zebranautic Revolution