Time+Space has announced a 30% discount on Garritan Instruments for a limited time.
Thanks to Garritan instruments you can finally fit that majestic towering pipe organ in your studio, not to mention a full marching band, a Jazz quartet and a collection of stunning Harps. Until 30th June, Time+Space are giving you the chance to buy them from just £55.27 / EUR64.36!

Garritan instruments are renowned for being effective, easy-to-use and affordable tools for scoring and making music. Whether you're a composer sketching out an orchestral score or someone who is new to the world of virtual instruments, these ARIA-engine powered titles will easily find a place within your set-up.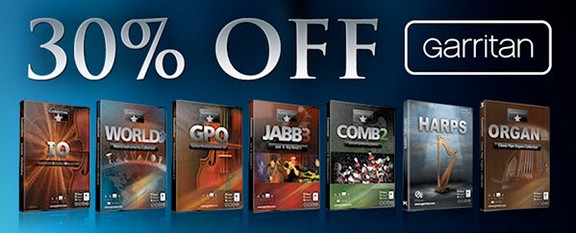 Garritan instruments on sale
Personal Orchestra 4 – Create lush symphonic music from over 150 software orchestral instruments.
Jazz & Big Band 3 – Trumpets, trombones, saxes, winds, keyboards, basses and rhythm section.
Concert & Marching Band 2 – Band instruments including woodwinds, brass, drums and percussion.
World Instruments – Over 350 individually sampled instruments from around the world
Instant Orchestra – Produce striking orchestral music in no time with instruments, sections, orchestral effects and mood-based presets.
Classic Pipe Organ Collection – Six majestic pipe organs each unique and representative of a specific school of organ building.
Harps – Avariety of harps and special features includingadvanced glissando emulation and sampled acoustic spaces.
The offer ends June 30th, 2013.
More information: Time+Space